Volkswagen Truck & Bus

Volkswagen Truck & Bus made further steps in 2017 towards its strategic objective of becoming a global industry champion. It was helped by innovative cooperation projects between the Volkswagen Truck & Bus brands and the strategic alliance partner Navistar.
BUSINESS DEVELOPMENT
Volkswagen Truck & Bus aims to become the industry's global champion. Volkswagen Truck & Bus already leads the truck market in Europe and in Brazil. In the coming decade, we want to lead the industry in terms of profitability, innovation for our customers, employee satisfaction and global presence.
Volkswagen Truck & Bus operates under the motto "Driving transportation to the next level". The key to putting this into practice is to promote cooperation in research and development between the brands. An office coordinates the joint development activities across brands and countries and helps the brands get new technologies to market faster. An example is the joint e-Drivetrain platform being designed to revolutionize electric driving in the Group. Parts of the platform are to be used in various Volkswagen Truck & Bus vehicles, such as the electric-powered city buses from MAN and Scania. The first of these buses will be delivered to selected European cities in 2018, including Hamburg and Paris. Our alliance partner Navistar is also planning to use the joint e-Drivetrain platform.
With the launch of the RIO platform at the end of 2017, Volkswagen Truck & Bus cemented its role as a digitalization pioneer. The cloud-based platform is also available to all other brands and new partners. Since January 2018, the RIO box has been available for retrofitting in all vehicles with a fleet management interface. RIO is thus also suited to mixed fleets containing vehicles of different brands. Since August 2017, every MAN truck delivered in Europe has been fitted with the RIO box with access to the RIO platform as a standard feature. Volkswagen Truck & Bus is already Europe's market leader for networked trucks. Scania, Volkswagen Caminhões e Ônibus, Volkswagen Commercial Vehicles and the strategic partner Navistar are also planning to use the RIO platform in future.
PRODUCTION

Units

2017

2016

Trucks

188,234

167,354

Buses

19,217

18,713

Light Commercial Vehicles

3,891

–

211,342

186,067
DELIVERIES

Units

2017

2016

Trucks

183,481

165,806

Buses

19,218

17,775

Light Commercial Vehicles

2,212

–

204,911

183,581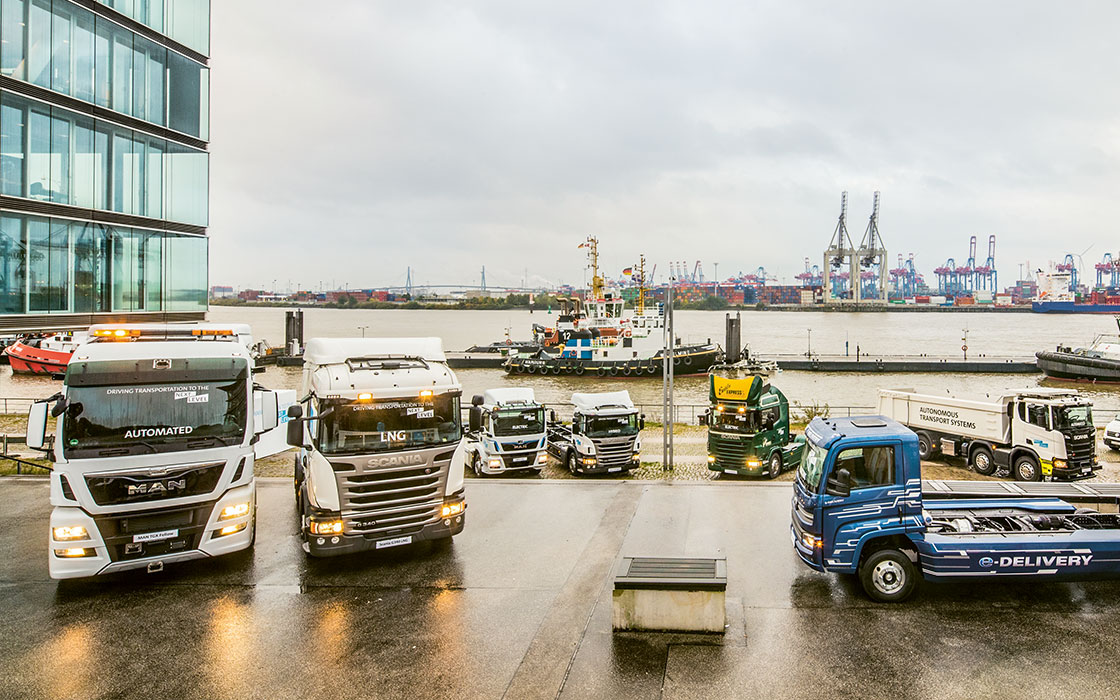 DELIVERIES BY MARKET
in percent