Shareholder structure
SHAREHOLDER STRUCTURE AT DECEMBER 31, 2017
as a percentage of subscribed capital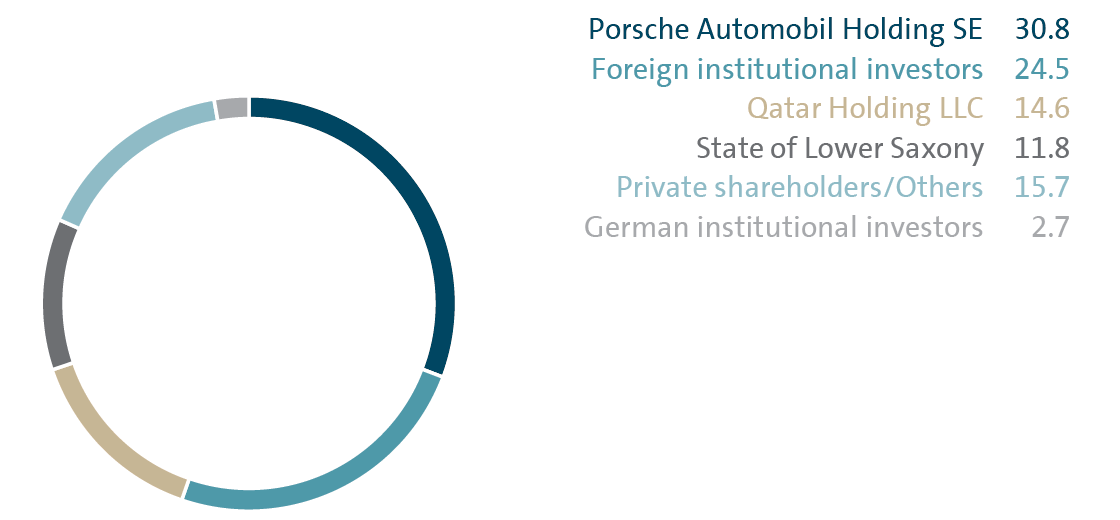 SHAREHOLDER STRUCTURE AT DECEMBER 31, 2017
Volkswagen AG's subscribed capital amounted to €1,283,315,873.28 at the end of the reporting period. The shareholder structure of Volkswagen AG as of December 31, 2017 is shown in the chart on this page.
The distribution of voting rights for the 295,089,818 ordinary shares was as follows at the reporting date: Porsche Automobil Holding SE, Stuttgart, held 52.2% of the voting rights. The second-largest shareholder was the State of Lower Saxony, which held 20.0% of the voting rights. Qatar Holding LLC was the third-largest shareholder, with 17.0%. The remaining 10.8% of ordinary shares were attributable to other shareholders.
Notifications of changes in voting rights in accordance with the Wertpapierhandelsgesetz (WpHG – German Securities Trading Act) are published on our website at www.volkswagenag.com/ir.