Production
Our global, cross-brand production network safeguards the processes from the supplier to the factory and assembly line, and from the factory to dealers and customers. Enduring efficiency is a prerequisite for our competitiveness. We meet challenges of the future with holistic optimizations, pioneering innovations, flexible supply streams and structures, and an agile team. In fiscal year 2017, the global vehicle production volume surpassed the previous year's level and reached 10.9 million units. Productivity increased by around 5.9% year-on-year, despite the continuing difficult conditions in many markets.
"Intelligently networked" production strategy
Production is supporting the future program TOGETHER – Strategy 2025 with their "intelligently networked" functional area strategy. By intelligently connecting people, brands and machines, we aim to pool the strengths and potential of our global production and logistics and take advantage of the resulting synergy effects. We are guided in this by four goals:
Versatile production network
Efficient production
Intelligent production processes
Future-ready production
We have used nine initiatives to create content clusters in which expert teams work on the strategic topics relevant for production in the Group. Examples include the competitive design of our global production network, the reduction and offsetting of environmental impact throughout the production process, and digitalization with its implications for production and working processes and for collaboration. The overarching aim is to increase productivity and profitability.
With the production strategy, we have laid the foundations for the successful and sustainable enhancement of our production. We use regular reviews to ensure that we constantly adapt our activities to the current challenges.
Global production network
With twelve brands and 120 production locations, aspects such as consistent standards for product concepts, plants, operational equipment and production processes are key to forward-looking production. These standards enable us to achieve synergy effects, respond flexibly to market challenges, make optimal use of a flexible production network and realize multi-brand locations. Currently, almost half of the 40 passenger car locations are already multibrand locations. One example is the Bratislava site, which produces vehicles for the Volkswagen Passenger Cars, Audi, Porsche, SEAT and ŠKODA brands. We will add other multi-brand locations in future, for example, in Tianjin, China.
The Volkswagen Group has set itself the goal of becoming one of the world's leading providers of battery-powered vehicles (BEV) by 2025. The basis for this is the introduction of the Modular Electric Toolkit (MEB), which we will use to expand our range with a new BEV family.
In order to design multibrand projects and for e-mobility to be cost-effective in conjunction with existing concepts, it is important to make production highly flexible and efficient. Making maximum use of potential synergy effects is also a decisive factor for the success of future vehicle projects. Using common parts and concepts as well as identical production processes will enable reduced capital expenditure and provide the opportunity to better utilize existing capacities. The future will also see electric vehicle projects at multi-brand locations such as Anting, China.
We are constantly enhancing our production concepts and aligning them with new technologies. The targeting process anchored in our strategy serves to realize ambitious targets in individual projects as part of a cross-divisional approach.
The "components" business is also helping to safeguard the Group's future with its own initiatives. With around 80,000 employees worldwide, it is an integral part of the Group and plays a central role particularly in the core competency of engines and transmissions. The "components" business has been reorganized within the Group as part of a Group initiative. The aim is to boost our competitiveness, optimize investment, raise our efficiency, make a major contribution to the trends of the future, enable a coordinated entry into e-mobility and develop new business areas.
Production locations
The Volkswagen Group's production network is comprised of 120 locations in which passenger cars, commercial vehicles and motorcycles, as well as powertrains and components are manufactured.
VEHICLE PRODUCTION LOCATIONS OF THE VOLKSWAGEN GROUP
Share of total production 2017 in percent
Enlarge image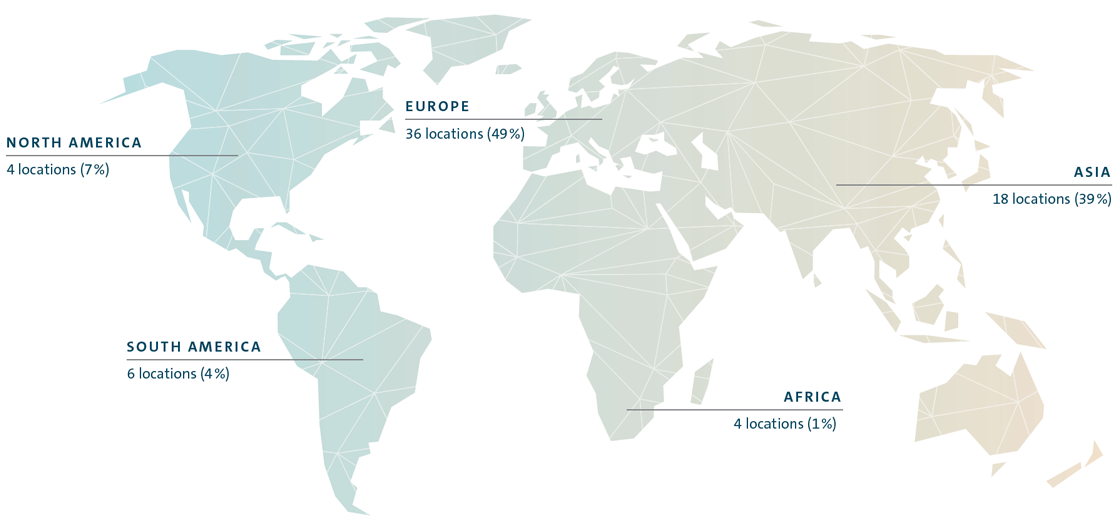 With 71 locations, Europe remains our most important production region for vehicles and components. There are 28 sites in Germany alone. The Asia-Pacific region has 31 locations. We have five locations in North America and nine in South America. The Group operates four locations in Africa.
2017 saw 62 production start-ups: 26 for new products and 36 for product upgrades and derivatives.
Capacity utilization of the locations in the Volkswagen Group's production network is further enhanced by supplying them with complete knock-down (CKD) kits for local assembly.
The Group's production system
With our global Group production system, we aim to continuously and sustainably improve our production workflow at all the brands' and regions' locations. Our goal is to ensure the excellence of processes in production and production-related environments.
We are increasing the amount of attention we give to further strengthening the Group's production system and increasing its presence. Leadership and individual responsibility are the foremost topics, embedded in a culture of appreciation and collaboration.
A factory must work at optimal capacity so as to continue manufacturing high-quality products that give customers maximum benefits at competitive prices. This is made possible by the standardization of production processes and operating equipment at an early stage, based on the principle of so-called "concept consistency". This ensures that common design principles, joining techniques and joining sequences, but also installation and connection concepts are applied in the brands' development and production areas. The principle of "concept consistency" is fundamental for creating efficient logistics and manufacturing processes.
New technologies and product innovations
With our manufacturing technologies, we create Group products that fulfill the highest standards of functionality, quality and design. In recent years, for example, vehicles with multicolored paintwork have become popular, particularly those with color-contrasting roofs. Until now, this two-tone paintwork has required the vehicles to pass through the paint shop twice during production. Volkswagen is working with process partners in a joint project to develop a new technology that can significantly reduce the workload for multicolored designs. This technology was implemented for the first time in 2017 at the Pamplona site, initially for the new Polo. Other vehicles and locations are set to follow.
In the foreseeable future, the Volkswagen Group will also be able to offer more individually customized paintwork than previously possible thanks to the availability of digital printing.
Where the design and introduction of new production technologies are concerned, affected staff are involved in the redesign of workplaces and processes from the outset. This is an important prerequisite if new technologies and solutions are to find the necessary acceptance.
Environmentally efficient production
One element of the production strategy is the environmentally exemplary production initiative. This involves us working on four key issues in the period leading up to 2025:
Setting and achieving ambitious environmental targets for production
Developing a long-term vision for environmental targets in production and rolling it out across the Group
Strengthening employees' environmental awareness and integrating relevant environmental aspects into processes
Achieving top positions in renowned environmental rankings
In this context, the Volkswagen Group has set itself the goal of reducing the five key environmental indicators of energy and water consumption, waste for disposal, and CO2 and VOC emissions in production by 45% for each vehicle produced by 2025 – starting from 2010 levels. This objective applies to all of the Group's production locations and is derived from our environmental requirements for production processes, which are anchored in the Group's environmental principles. The charts above show the development of these indicators.
We are encouraging networking and communication between the brands worldwide in order to leverage synergies. Our environmental experts meet regularly in working groups; in addition, we train our employees on the topic of environmental protection.
To identify and implement savings at the locations, the Environmental Task Force – a team from Group Research Environment – analyzes manufacturing processes, site infrastructure and resource and energy flows in production and evaluates their impact on the environment. With experience from more than 30 analyses, the team can systematically reinforce and spur on the transfer of measures.
We record and catalog environmental measures in an IT system and make these available for a Group-wide exchange of best practices. In the reporting period, around 1,600 implemented measures in the area of environment and energy were documented in this system. They serve to improve infrastructure and production processes for passenger cars and light commercial vehicles. These activities are beneficial from an environmental and economic perspective.
With a series of effective, innovative measures, we once again promoted the reduction of environmental indicators in the reporting period while at the same time improving production processes. The following examples show the extent to which the measures have contributed to strengthening production processes and achieving targets:
One important lever for reducing energy consumption is tailoring the operation of all facilities according to demand. Improving ventilation in the halls at the Bratislava site has resulted in savings of 15,000 MWh and 200 tonnes of CO2.
Measures have also been implemented in energy generation and consumption. For example, five German locations switched to 100% CO2-free power in the reporting period. This is saving 165,000 tonnes of CO2 per year at the Volkswagen Passenger Cars and Porsche brands.
As part of an upgrade to the paint shop at Volkswagen de México, new electrostatic painting robots were installed. These have reduced paint consumption on the production lines by up to 19%, resulting in a VOC reduction of up to 152 tonnes per year.
KEY ENVIRONMENTAL INDICATORS FOR PRODUCTION IN THE VOLKSWAGEN GROUP1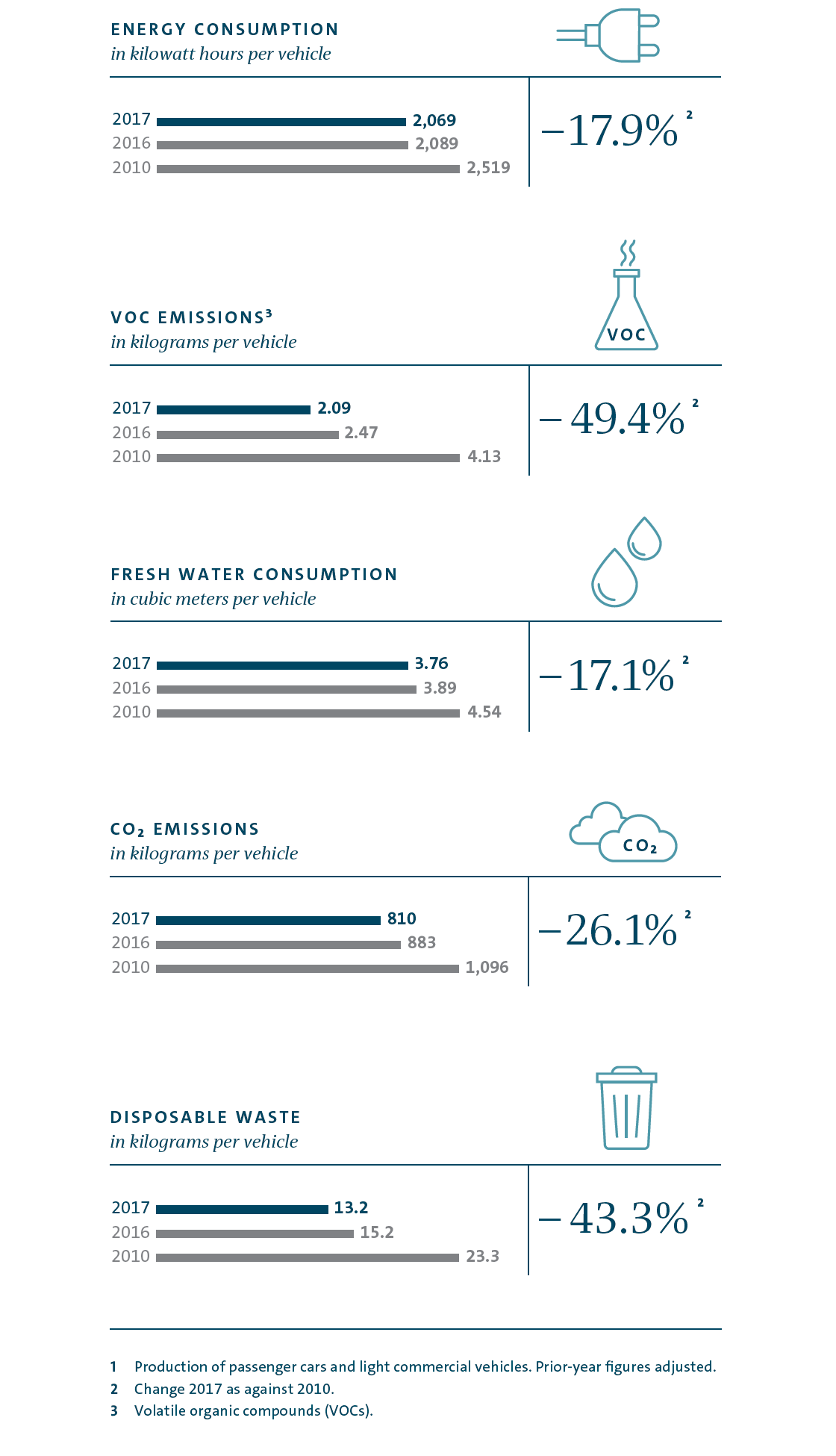 Green logistics
Logistics is contributing to the Volkswagen Group's focus on the environment by analyzing the emissions of the entire transport chain. The Green Logistics initiative promotes alternative means of transport and sustainable, energy-efficient transport systems, thereby reducing greenhouse gas emissions.
Universal environmental principles were defined during the reporting period and used to create strategic guidelines and rules. These are designed to ensure that our environmental standards in logistics processes are implemented globally.
In logistics, this means, for instance, avoiding transports, shifting goods to more environmentally friendly means of transport, or improving the implementation and use of modern technology and alternative drive systems.
An important starting point for reducing CO2 emissions is the selection of the mode of transport. One of the most efficient options in terms of transport capacity is maritime transport. To further improve the environmental sustainability of ship transport, Volkswagen Group logistics will put two charter ships powered by liquefied natural gas (LNG) into service in 2019.
In September 2017, we held an LNG Truck Day to dispel doubts and reservations regarding the new technology and actively support the expansion of the LNG fuel station network in Germany. Among others, regional freight forwarders, gas providers and representatives from the German Federal Ministry of Transport and Digital Infrastructure and the Federal Ministry for Economic Affairs and Energy took part.
In mid-2017, Volkswagen Sachsen GmbH's Zwickau plant and the Porsche factory in Leipzig presented fully electric, 40-tonne trucks suitable for highway driving. With automated driving functions, the vehicles are intended for short-cycle, on-time transport. Two trucks were fitted with electric drive systems and batteries in the eJIT (electric-powered just-in-time mobility) research project. The e-trucks reach a speed of 85 km/h and have a range of 70 km.