Carbon fiber is ultra-light, yet extremely robust. And with production costs falling, it could play a key role in the electric vehicle era. Volkswagen Group engineers are carrying out pioneering work in this field.
The 42-centimeter coupling rod feels like a hollow tube: light as a feather, discreetly patterned and otherwise generally unprepossessing. If a traveling showman were to claim that this rod, which tips the scales at a mere 33 grams, could easily bear the weight of a mature dairy cow, the crowd would just laugh at him. But that scorn would very quickly turn into amazement, because the showman would be absolutely right. The carbon fiber rod is three times as strong as a steel profile of the same dimensions, but only one-quarter of the weight. And it is corrosion-resistant.
In the world of materials, carbon fiber – or carbon fiber reinforced polymer (CFRP), to give it its full name – is the one to beat. It outdoes all other materials in terms of its optimal strength-to-weight ratio, flexibility, and stability. That is mainly due to the carbon. No other element in the world has the same ability to form so many stable bonds with different elements – in nature's toolbox, carbon is as versatile as a Swiss Army knife. The fact that natural diamond – the hardest known material on Earth – is nothing other than crystalline carbon testifies to the enormous strength of this all-rounder. Carbon fiber is made from an organic polymer. This feedstock is heated to a high temperature to expel the non-carbon atoms in the form of various gases. This leaves fibers composed of chains of carbon atoms, which are then embedded in a polymer matrix to create this unique material with properties far superior to those of other lightweight materials such as aluminum and titanium.
That is what makes carbon so interesting for materials research. However, quality of this caliber comes at a price. Even today, the development, planning and production of carbon fiber components is still very costly – which is the main reason why carbon fiber components are chiefly to be found in aircraft or golf clubs. In other words, where lightweight material and maximum robustness are essential. And, of course, in sports cars from the Volkswagen Group.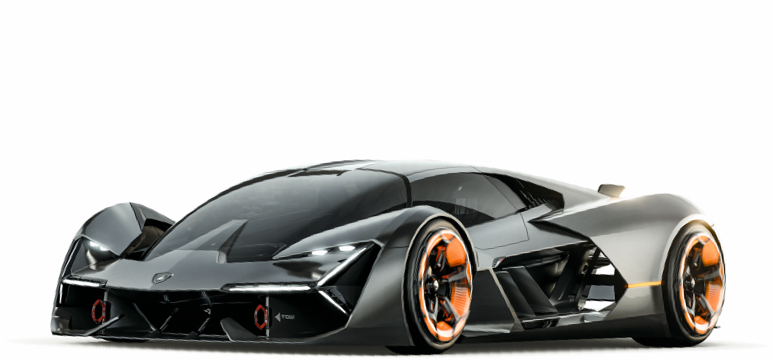 To find out more about one of the Group's pioneers in carbon fiber research, we travel to Molsheim in Alsace, France. In this idyllic town with a population of just under 10,000, engineers and technicians from the Bugatti super sports car brand have been testing the use of carbon fiber components to meet the most demanding requirements since 2001. Almost the entire monocoque of the Chiron1, Bugatti's latest model, is made of carbon fiber – like its predecessor, the Veyron. The same applies for the outer shell.
"We were the first to use tailored fiber placement ultra high-strength RTM components, ultra heat-resistant bismaleimide resins, and UMS carbon fibers in a production car," explains Frank Götzke, Head of New Technologies, who is also responsible for manufacturing technology development at the brand. "Compared with conventional high-strength steel alloys, carbon fiber has an exceptional ratio of tensile strength and stiffness to density."
The problem, though, is that carbon fiber only displays this strength and stiffness in the direction of the fibers, and only at a maximum temperature of 240°C. Interweaving the fibers and making them even more heat-resistant is complex, but possible. Several milestones in the history of carbon fiber at Bugatti are on display in Götzke's office. The carbon-ceramic brake discs for the Bugatti Veyron, for example, which were the largest of their kind in 2003, but only weighed half as much as their cast steel counterparts. Or the wiper arm in the new Chiron, which can easily withstand wind pressure even at a speed of 400 kph. Or carbon fibers reinforced with nanotubes and nanotube yarn, a research project in collaboration with the Leibniz Institute for Solid State and Materials Research in Dresden and the Bremen Fiber Institute. Other Group brands are also currently hard at work on ways to broaden the range of carbon fiber applications. According to Luciano De Oto, Head of the Advanced Composites Structures Development Center at Lamborghini, carbon fiber is today only slightly more expensive to produce than aluminum. The Audi subsidiary in Northern Italy has been one of the worldwide leaders in carbon fiber research since it started using the material on the Countach Quattrovalvole back in 1985. Today, the entire monocoque of the Aventador2, for example, is made of carbon fiber – all built in-house. The complete body of the Centenario3 is, too, while the Sesto Elemento is almost entirely made of the material. Lamborghini processes about 400 tonnes of carbon fiber a year.
"Over the last five years we have developed technologies that enable us to produce ever larger quantities of increasingly complex parts. It won't be long before we see carbon fiber being used not just in super sports cars," De Oto says.
Take Ducati, for example. The Bologna-based motorcycle manufacturer, also a subsidiary of Audi AG, has been using carbon fiber for many years, and in a growing number of applications. Ducati began by producing carbon fiber fairings and guards, and for a good ten years now the motorcycle manufacturer has also been using the material for structural parts on its machines. This has a positive effect. The motorcycles weigh less, fuel consumption is reduced, and driving pleasure is intensified.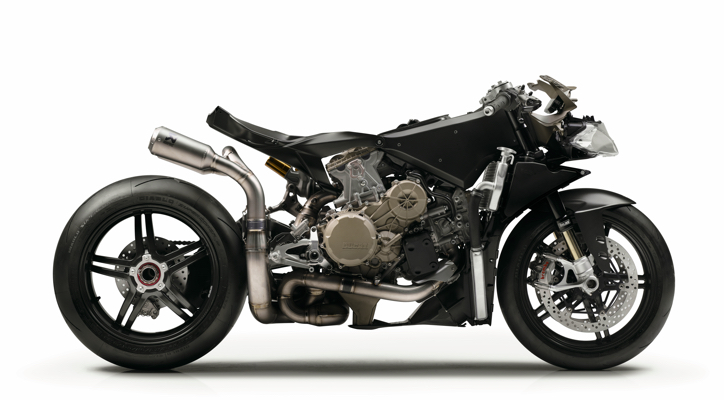 "Making lightweight construction cost-effective is a challenge," says Simone Di Piazza, Head of Vehicle Design and R&D Services at Ducati. "The smart use of carbon fiber helps us to overcome these obstacles." Carbon fiber could even play a key role for the automotive industry in the e-mobility era. Batteries are heavy, so the rest of the vehicle must be as light as possible to enable a long range. "We will probably soon be seeing CFRP in the form of organic sheets and pultruded profiles in a Volkswagen e-Golf⁴ or other Group models," Bugatti engineer Götzke says. For large components in particular – doors, roofs, hoods or battery boxes – carbon fiber could turn out to be a crucial factor in extending the all-important range of Volkswagen's e-fleet without having any major impact on vehicle weight.
That is one of the reasons why brands such as Bugatti, Lamborghini, and Ducati are currently investing more know-how and financial resources than ever before in research cooperations – such as the collaboration between the University of Washington (Seattle), Lamborghini and Boeing at the Advanced Composite Structures Laboratory in Seattle. Or the cooperation between the Massachusetts Institute of Technology (MIT) and Lamborghini to create the visionary Terzo Millennio sports car. The chassis of this future concept has nanotubes sandwiched between carbon fiber layers to store electric energy. What's more, a monitoring system has the ability to detect even the tiniest cracks in the bodywork and initiate chemical repair processes.
Carbon fiber has always been ultralight and extremely robust, and now it is smart and can even function as a battery, too – so the material has a bright future in automobile construction. There is also a positive side effect, because other sectors also benefit from the knowledge of the Volkswagen R&D specialists. Take medical technology. For many years, Lamborghini has been giving several clinics in Northern Italy access to its know-how, helping to develop innovative prostheses and implants that are lighter, more compatible and more durable than those currently available. Most recently, Lamborghini announced it is collaborating with the Texas-based Houston Methodist Research Institute, while Bugatti is cooperating with Hannover Medical School. The common goal is to put carbon fiber and nanotechnology to use in biomedicine. Seen from a medium-term perspective, then, carbon fiber research will not only make cars lighter, but also make life easier for upper and lower limb amputees.
1 Bugatti Chiron: fuel consumption, l/100 km: combined 22.5; CO₂ emissions combined in g/km: 516; efficiency class: G
2 Lamborghini Aventador: fuel consumption, l/100 km: combined 16.9; CO₂ emissions combined in g/km: 394; efficiency class: G
3 Lamborghini Centenario: fuel consumption, l/100 km: combined 16.0; CO₂ emissions combined in g/km: 370; efficiency class: G
4 Volkswagen e-Golf: power consumption in kWh/100 km: combined: 12.7; CO₂ emissions combined in g/km: 0; efficiency class: A+