The Volkswagen Group wants to actively contribute to reducing the number of road traffic fatalities. But how? With clever assistance systems and connectivity.
The good news first: Europe's roads are getting safer and safer. Statisticians at the World Health Organization (WHO) came to that conclusion in their most recent Global Status Report on Road Safety, published in October 2015. The study shows that, in relative terms, the number of road traffic fatalities in European countries decreased by more than 55 percent between 2000 and 2015 ("relative" means that the figures have been adjusted to factor out the effects of the increase in vehicle numbers during the same period, making the result more informative).
One reason for such a significant improvement in safety in many areas is stricter laws and intensified traffic checks, plus optimal infrastructure. Another is new assistance systems and further progress in automotive technology that makes protection for drivers, passengers and pedestrians ever more reliable.
The other, not-so-good news holds a challenge for the automotive industry. Despite all the progress, about 1.3 million road traffic fatalities per year worldwide is still far too many. Human behavior in road traffic will never be perfect, that's for certain. But if carmakers were to be even more consistent in equipping their vehicles with digital safety systems and networked features, if they were to design displays and other infotainment sources to distract the driver as little as possible from what is happening on the road – then the number of accidents would fall even further in the future. And those accidents that are unavoidable would have less serious outcomes.
That is why Volkswagen Group Research has embraced the goals of the "Vision Zero" international initiative. Zero stands for no fatalities, the ultimate goal. In this particular case, the zero means that, in the long term, vehicles from Volkswagen Group brands will no longer be involved in any accidents resulting in death or serious injury.
For Vision Zero, then, the further development of self-driving functions is particularly promising – because if cars are capable of driving and braking autonomously, and can communicate with one another, then the mistakes that people make when driving will become less and less relevant. It will still take some time to arrive at that stage, but the technology is making rapid progress.
How are products and services from Group brands driving Vision Zero forward? The four highlights outlined in this chapter represent different approaches: improved user interfaces, real-time customer service, advanced assistance systems, and autonomous functions. Vision Zero is getting closer – step by step.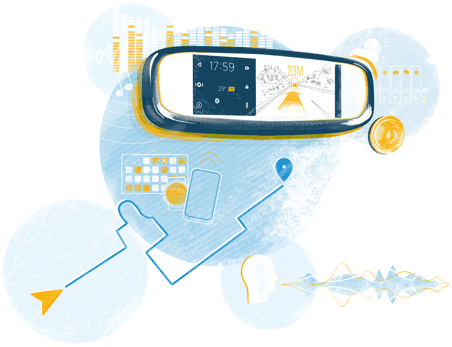 TICMIRROR
The smart rearview mirror
Cars are becoming increasingly connected, accessing loads of information for the journey from the Internet in real time. Digital interfaces must be designed to be as intuitive as possible so that they do not distract the driver's attention from the road. One solution for vehicles that are not already equipped with a networked infotainment system is Ticmirror, which Volkswagen Group China is currently developing further under a joint venture with the Chinese technology company Mobvoi. The smart rearview mirror has an online navigation function, it can stream music, search for destinations in the vicinity using intuitive voice controls, and be upgraded to a comprehensive virtual assistance system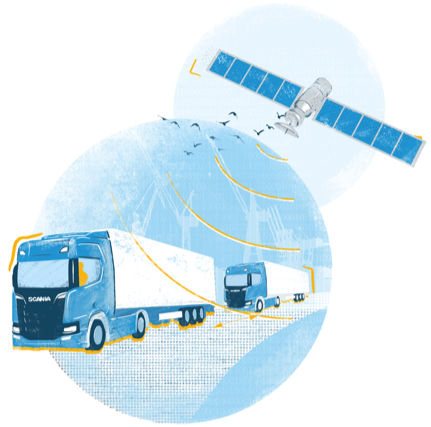 SCANIA PLATOONING
Stop-and-go 4.0
Truck convoys in stop-and-go mode – the perfect situation for autonomous driving technology. This is the starting-point for a platooning project at Scania. The world's first full-scale autonomous truck platooning technology has been in trial operation since 2017. Once the trials have been completed, convoys of four trucks will transport containers between port terminals – for example, at the Port of Singapore. Only the lead truck has a driver, while the following three are driven autonomously. The project also aims to fully automate the processes for the precise docking and unloading of cargo. That not only enhances productivity, but also contributes to increased road safety.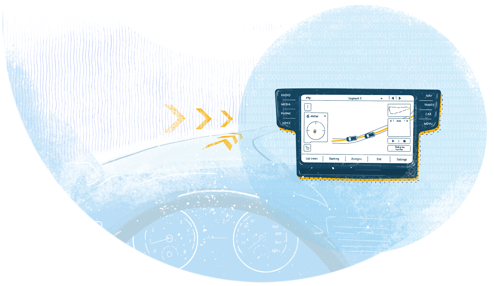 RACE TRAINER
The digital racing driver instructor
A lucky few have already been able to test this assistant at the Ehra-Lessien proving ground in Lower Saxony. The Race Trainer, a Group research project, is a visionary assistant that gives an insight into the interaction between autonomous driving, augmented reality, and road safety. With the help of steering and braking aids, acoustic assistance, and racing lines superimposed on the circuit in front of the vehicle, the system tells drivers when to brake on a specific section, how to accelerate, and the best way to take a corner. The findings from the research project will be used in the next generation of assistance systems, turning them into modern-day guardian angels.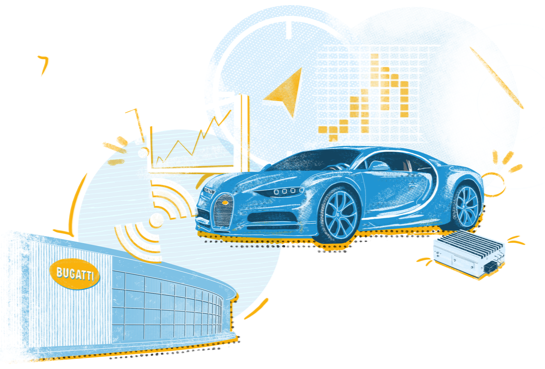 BUGATTI TELEMETRY
The real-time technical service
Bugatti customers have been enjoying this service since 2004, when a data transmission and analysis system that monitors the technical status of each individual Bugatti from the company's headquarters in Molsheim 24/7 was introduced for the Veyron 16.4. Since the launch of the new Chiron1 in 2017, the data is even transmitted on a real-time basis. If unusual signals are received from a vehicle, Bugatti customer service receives a message and can immediately respond. The premium service used to be available for Formula 1 or DTM racing cars only, but now it also provides Bugatti drivers with optimal safety.
Lifesavers on the move
Germany: this is how assistance systems have helped reduce the number of traffic fatalities since the 1970s.

1 Bugatti Chiron: fuel consumption, l/100 km: combined 22.5; CO₂ emissions combined in g/km: 516; efficiency class: G