Letter to our Shareholders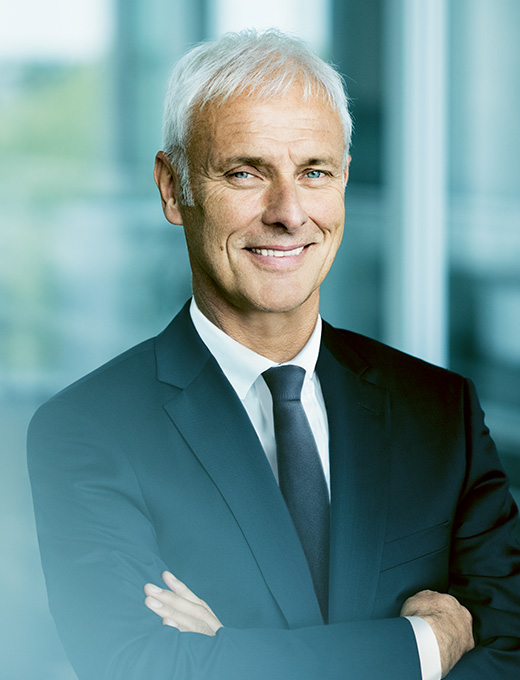 What do you think makes a good company?
First of all, a good company certainly delivers compelling business results. And definitely implements the necessary measures to remain successful tomorrow and far into the future. But I imagine that you, just like me, also believe there is more to a good company than this – namely the essence of the organization: what drives it and keeps it together. So ultimately it's about attitude and values.
Results, future, attitude: where does your Company stand, where does the Volkswagen Group stand now, in these three dimensions?
As far as business figures are concerned, the answer could hardly be clearer: 2017 was an exceedingly successful year for us. Around the world, 10.7 million customers – more than ever before – chose a vehicle from one of our brands. We are grateful for the trust that this embodies. Our financial figures were also very convincing: sales revenue rose to €230.7 billion. At €13.8 billion, our operating profit was better than ever – despite negative special items of €3.2 billion. And at 7.4 percent, the operating return on sales before special items also exceeded the original forecast. The key performance indicators show that our operating business is strong and the Group's financial situation is solid. The fact that we are in such a good position today after everything that has happened in recent years is the result of really great teamwork. And I would like to thank our employees all over the world for that.
It goes without saying that you as shareholders will participate in your Company's success. The Board of Management and Supervisory Board will therefore propose a dividend of €3.90 per ordinary share and €3.96 per preferred share for fiscal year 2017. This corresponds to a payout ratio of 17.3 percent.
Looking ahead, we – like the entire industry – are facing major challenges and radical change. But here, too, there is reason to be optimistic. This is also reflected in our share price, which returned to the pre-crisis level at the end of 2017. We believe this also expresses the confidence shown by financial markets in our realignment. And, indeed, TOGETHER – Strategy 2025, our plan for the future, is taking effect and becoming increasingly tangible.
Each setback should above all encourage us to devote all our energy to bringing about the transformation at Volkswagen.
With Roadmap E as a key element of this strategy, we are demonstrating how we intend to help e-mobility achieve its breakthrough – not just in our Company, but throughout the entire industry. At the same time, on the road to emission-free mobility, we are pressing ahead with the full range of drive- trains including efficient, ultra-modern combustion engines. Throughout the Group, we have begun working hard on the other major future trends as well. On artificial intelligence, new mobility services, digital connectivity and, last but not least, on fully automated vehicles like our Sedric: the first car from the Group to come without a steering wheel or pedals.
By the end of 2022, we plan to invest over €34 billion from our own resources in the key technologies of tomorrow. This, too, shows that Volkswagen is changing course. We are steering towards the future. We are not stopping halfway, we are picking up the pace. With a clear goal in front of us: to transform the Volkswagen Group from an automaker into a company that brings sustainable mobility to people all over the world. I firmly believe that we can do this. Because we are following a clear plan for the future. Because we have very successful operations. And because within the Group we have the critical mass, innovative capacity and financial discipline to spearhead this change.
You might be asking yourself: "That's all well and good, but what about the third criterion you mentioned at the beginning, the attitude in the company, our values?" I have to admit: it is here that we are still furthest from our goal.
Changing the culture of a large organization is hard. It requires time, endurance and determination. In spite of all the progress I see every day – and which I find heartening – we still repeatedly encounter setbacks. They hurt, but they are inevitable. What's important is how we deal with them. What we learn from them. Each setback should above all encourage us to devote all our energy to bringing about the transformation at Volkswagen. It's about more open cooperation between our brands. About more speed, pragmatism and decisiveness. A critical ability and the reduction of power distances. And last but not least, we need authentic, vibrant leadership based on values and integrity.
So if you were to ask me today: "Is Volkswagen a good company?", then my answer would be: "Yes, Volkswagen is an exceedingly successful global company. Yes, we are working very hard on the future of mobility and therefore also on our own future. And yes, at Volkswagen we have recognized how essential a solid foundation of values and a healthy corporate culture is."
But at the same time, it's also true that our Group is not yet as good as it could be. We still have quite a way to go. For me, this means one thing in particular: we have many opportunities to turn Volkswagen into an even more successful – and an even better – company. For our customers, employees and business partners. For the environment and society. For our investors. And for you, our shareholders.
Our Group still has enormous potential. We want and we will exploit this. I am looking forward to counting on your continued support as we move forward together on this journey.
Sincerely,
Matthias Müller